A Look Inside the 2020 Mazda CX-30: A Cabin for the Human Journey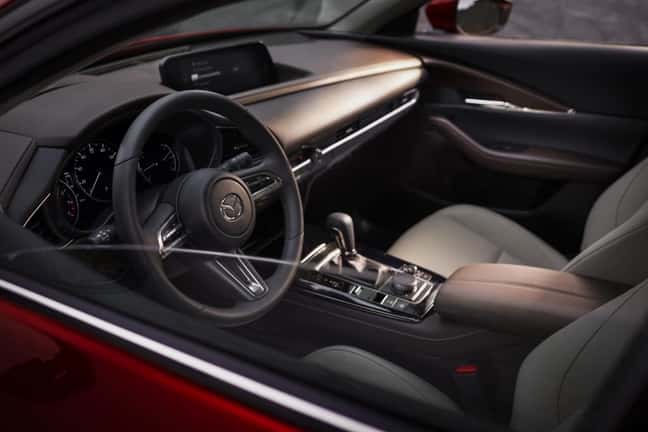 The 2020 Mazda CX-30 interior cabin is created with high-quality features designed to maximize quality time. Whether you are the driver or a passenger, the CX-30 was designed to create a space that is comfortable and conducive to human connection.
"The cabin had to be spacious enough to facilitate good times shared between family and friends," explained Naohito Saga, program manager of CX-30, "offering comfort and peace of mind so drivers and passengers could relax and enjoy the ride."
Interior Design
The fabrics and stitching within the CX-30 were inspired by luxury furniture and leather makers. Applying similar techniques created a sense of texture, depth, and color inside of the vehicle.
The main goal for the interior cabin was to create an interior space that can seat four adults comfortably. The front and rear seats are designed to create a comfortable distance between occupants. It is also the perfect distance to allow front seat passengers to easily communicate with the passengers in the second row.
A Quiet Cabin
Mazda's designers wanted to create a quiet, peaceful space inside of the vehicle so that the driver can focus on the road and passengers can relax. Designers studied human perception of sound to mitigate sounds that are perceived as unpleasant.
The entire cabin is constructed with two-layer wall structure to muffle unwanted sounds. The side speakers were moved to the footwells to eliminate road noise and vibration. Many holes in the cabin were eliminated to enhance sound insulation. Even floor mats and tires were hand picked to reduce spikes in road noise while traveling across different pavement types.
Audio System
The new Mazda Harmonic Acoustics sound system enhances the sound quality within the cabin. Engineers positioned the speakers in a way that is optimal for playback and transmission to the human ear. The sound becomes more balanced and immersive creating a studio-like atmosphere.
When the audio system is added to all of the other comfort features found in CX-30, passengers should be able to relax and enjoy engaging conversations. At the same time, drivers should be able to converse safely and effortlessly. The result? An unheard-of level of quality interaction during the journey the owner is sure to notice.